Emma's Lost Toys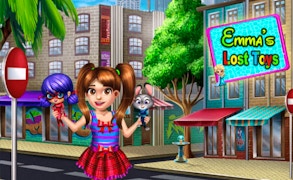 Emma's Lost Toys
Step into the vibrant and interactive world of Emma's Lost Toys, a captivating addition to the roster of Games for Girls and Games for Kids. This game effortlessly marries the fun-filled aspect of hidden object games with a heartwarming plot centered around young Emma's quest to retrieve her beloved lost toys.
The game is visually striking with its high-quality graphics that marvelously depict diverse environments - from a sprawling brisk city to an expansive bustling mall and a serene tranquil park. Each level opens up a new backdrop, adding a refreshing novelty to the gameplay. It's not only about what you see, but where you see it. This game will undoubtedly have your children hooked, enhancing their observation skills while keeping them entertained.
In Emma's Lost Toys, children can embark on an emotionally rich journey with Emma as they help her search for her favorite toys in various locations that she has visited. The four levels of gameplay ensure that children have ample opportunities to practice their problem-solving techniques. The lost toys vary in every level, which keeps the game intriguing and avoids any monotony.
The hidden object games genre is instrumental in developing focus and patience in kids - essential life skills. The added twist of immersing them within Emma's story makes this game a standout within the genre. It is more than just finding objects; it's about helping Emma get back her precious belongings.
Emma's Lost Toys
proves itself to be an excellent choice for parents seeking engaging, thoughtful, and educational content for their children. Join Emma on her quest and bask in the joy of discovery that every level brings!
What are the best online games?