Elsa Family Christmas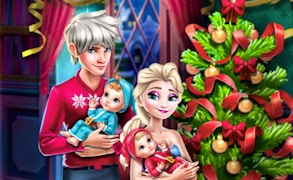 Elsa Family Christmas
If you are on the hunt for delightful games for girls, enchanting baby games, immersive christmas games, or engaging frozen games, then you've come to the right place! Our latest find is an adorable game called Elsa Family Christmas. This captivating piece of entertainment takes festive gaming to a whole new level!
In Elsa Family Christmas, Elsa and Jack are gearing up to celebrate their first joyful yule with their twins. As a player, not only do you step into this charming family's holiday preparations, but also spearhead them. The game's objective covers everything from cleaning up before Christmas Eve to embellishing the living space with that personal touch of festive cheer.
Part of your tasks involves cleaning up after the twins—yes, that includes wrangling all the dirty diapers and clothes lying around. But fret not, as it's not all work and no play! You also have the delightful task of putting away the toys in their rightful places. It's a unique blend of realism and charm coupled with a sprinkle of whimsy which makes this one of those perfect games for girls.
The decoration part is arguably the most fun. You'll be given free rein over how you want to jazz up the family room for Christmas Eve. Remember! Santa is set to arrive any minute, so leave no stone unturned in creating that festive ambiance!
The cherry on top? The plate full of succulent gingerbread waiting for Santa! Just imagine - when your little ones see him munching on those cookies, their excited giggles will fill the air – making Elsa Family Christmas a go-to among other baby games.
In essence, if you're looking for an engaging, heartwarming game that captures the spirit of Christmas in its true essence and doubles as one of those perfect[child-friendly frozen games, Elsa Family Christmas should be your pick!
What are the best online games?