Element Blocks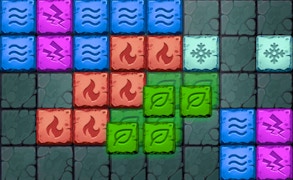 Element Blocks
Welcome to the world of Element Blocks, a mesmerizing venture into the realm of puzzle games that has successfully revolutionized the concept of traditional Tetris games. In this classically inspired yet radically innovative game, players will find themselves wholly engrossed in a universe of blocks, lines, and points.
The premise of Element Blocks is deceptively simple - just drag and drop block shapes onto the grid. Yet therein lies its unique appeal. Each block placement matters, each decision can drastically affect your score, making it an addictive entrant in the domain of brain games. This game is a testament to how engaging block games can be when designed with originality and finesse.
The graphics are pleasing; the interface user-friendly; and the background music adds just the right pinch of suspense to keep you hooked for hours. Element Blocks excels where many similar games falter: it maintains a balance between being refreshingly challenging yet not frustratingly complex, making it suitable for both casual players and puzzle enthusiasts.
Whether you're looking to kill some time or seeking a fun way to exercise your brain, Element Blocks is an exceptional choice. It takes the charm of classic Tetris games and infuses it with modern gaming elements to deliver a refreshing spin on block games.
In closing, if you're on the hunt for a captivating puzzle game that keeps your attention fixated and your mind continuously engaged, then look no further than Element Blocks.
What are the best online games?