Egg Shooter Bubble Dinosaur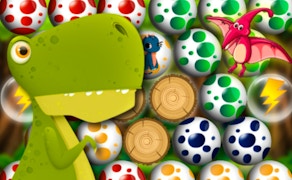 Egg Shooter Bubble Dinosaur
Step into the captivating world of Egg Shooter Bubble Dinosaur, an engrossing addition to the realm of arcade ball games. Harness your dexterity and enter a battlefield where precision, timing, and strategic thinking hold sway. Take aim and unleash fury on a towering pile of magical dinosaur eggs, each more colorful than the rainbow itself. Be it fans of Bubble Shooter Games or connoisseurs seeking new excitement in dinosaur games, this thrilling adventure is a must-try!
The game mechanics are gracefully simple, yet imbued with depth. Match three or more dinosaur eggs of the same color, then fire your chosen egg into the ever-growing stack. The ambition? To shatter all dinosaur egg hurdles using the least amount of shots. As the game progresses, you realize that every shot counts and every decision can turn the tide. The beauty lies within its complexity masked by simplicity.
What sets Egg Shooter Bubble Dinosaur apart is its clever combination of elements from both ball games and classic match-3 mechanics—and it is this innovative blend that makes playing feel fresh and delightful. The charming graphics create an aesthetical realm reminiscent of animated blockbusters, while creating a soothing backdrop for the explosive action.
The raw thrill of watching your perfect shot disintegrating a massive pile of eggs into bursting colors is pure satisfaction—an intrinsic reward that will keep you coming back for more. But beware! Becoming an expert marksman in this dinosaur egg-filled universe requires practice, precision, and perseverance.
In conclusion, Egg Shooter Bubble Dinosaur is a mesmerizing foray into the world of dinosaur games, presenting an addictive gameplay loop that offers hours upon hours of entertainment. Whether you're chasing high scores or simply want to unwind after a long day, this game serves as an ideal escape to a world brimming with color and fun.
What are the best online games?