Egg Jump Up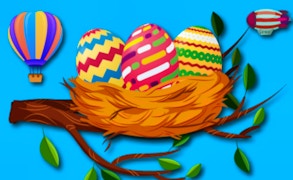 Egg Jump Up
Take a leap into the endlessly entertaining world of Egg Jump Up, a riveting addition to the realm of arcade ball games. This game heralds a fresh blend of skill and simplicity, serving up gameplay that is as addictively straightforward as it is captivatingly challenging.
The concept of Egg Jump Up is as simple as they come. Control a brilliantly colorful egg and navigate your way up from nest to nest. While this might sound easy, don't be fooled; this game belongs firmly among both skill games and hyper casual games, and it won't be long before you're utterly hooked.
The skill factor in Egg Jump Up does not dilute its appeal to casual gamers. In fact, it's the perfect balance between strategic maneuvering and instinctive action that makes it an irresistible pastime. Whether you're waiting for the bus or winding down after a long day, this game adapts seamlessly to any setting.
Packed with challenges that are sure to keep you on your toes, each level introduces new obstacles, adding layers of complexity to the game. As you progress through Egg Jump Up, your skills will be put to test in refreshing new ways, making for an engaging experience every time you play.
In conclusion, Egg Jump Up elevates itself above most other games in the arcade genre with its simplistic yet intricate design. This game guarantees a delightful experience that merges thoughtfulness with spontaneity. For lovers of ball games, skill games, and hyper casual games alike, this vibrant adventure will keep you coming back for more.
What are the best online games?