EG Super Color Lines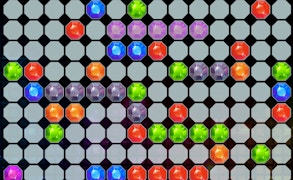 EG Super Color Lines
Step into the vibrant world of EG Super Color Lines, one of the latest additions to the realm of match 3 games designed for kids. This puzzle game is more than just eye-candy, it's a delightful and captivating challenge that will keep your little ones entertained for hours.
The magic behind EG Super Color Lines lies in its simplicity. With just a tap and drag on the screen, your child can move the shimmering jewels around to create beautiful color lines. Unlike most other match 3 games, this one requires you to match 5 of the same color – adding an additional layer of complexity and fun.
The goal is not only to match colors but also to score high – an aspect that adds a touch of friendly competition into this peaceful world of gleaming gems. With each successful match, your score increases, driving you to aim higher with each game.
But what's truly wonderful about EG Super Color Lines is how it manages to fill every moment with fun, whilst still contributing towards cognitive development. By encouraging pattern recognition, logic application and strategizing skills, it securely places itself amongst addictive games for kids that are both entertaining and educational.
This product from Ecaps Games has successfully achieved something most children's games strive for: making learning feel like a game. The beautiful graphics, mesmerizing sound effects and smooth user interface enhance this experience further – ensuring that every session with EG Super Color Lines feels like a joy-filled adventure.
In essence, EG Super Color Lines is more than just a game - it's an interactive learning experience disguised as fun! If you're on the hunt for a new game for your child that combines entertainment, education and simplicity in one colorful package - you've just found it! Let them immerse themselves in this addictive gameplay today!
What are the best online games?