E-Scooter!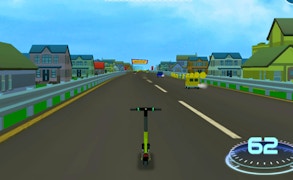 E-Scooter!
Get ready for an adrenaline-filled ride with the latest sensation in motorcycle games, E-Scooter! Experience the thrill of being a high-speed scooter pilot in this intense urban adventure that's been taking the racing games genre by storm.
If you have a penchant for high-octane driving games, E-Scooter will surely satisfy your need for speed. From treacherous hills to busy cityscapes, every terrain is your playground. What sets this game apart is its realistic physics engine, making it one of the most immersive dirt bike games on the market. Feel every bump and turn as you navigate through diverse landscapes while perfecting the art of scooter riding.
The game mechanics demand skill and precision. So if you're a fan of Skill Games, mastering E-Scooter will give you a rush like no other. Your path is strewn with daring jumps, hazardous obstacles, and unpredictable twists that will challenge even the most seasoned gamers.
E-Scooter brilliantly combines elements of skill-based gaming with real-world scooter maneuvering mechanics. Whether your goal is conquering hard-to-reach checkpoints or pulling off daring mid-air stunts, this game demands both quick reflexes and strategic thinking.
The graphics are incredibly detailed and lifelike, transporting players to varied environments that are as challenging as they are stunning. The roar of engines, the dynamic lighting effects, and jaw-dropping slow-motion sequences further elevate the gaming experience.
In conclusion, E-Scooter excels in delivering an authentic and exhilarating scooter racing experience. It's not merely about speed; it's about mastering control over your ride against all odds, much like real-life motocross racing. For adrenaline junkies craving an enthralling motorcycle racing game, donning the helmet in E-Scooter would be an absolute delight.
What are the best online games?