Durak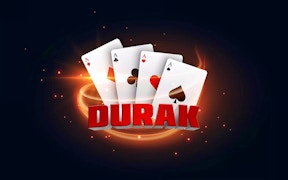 Durak
Meet Durak, an exceptional free online game that redefines the solitaire genre with its unique gameplay and strategic depth. With roots in traditional Russian culture, Durak has garnered immense popularity across the globe, transforming the way card games are perceived and played. The core aim of Durak is not just to discard all of your cards before your opponents, but also to strategically navigate the game in a way that leaves your opponents labeled as the 'durak' or the 'fool'.
The Uniqueness of Durak
The captivating charm of Durak lies in its unique rules and engaging gameplay. The deck utilised in this game comprises 36 cards, a deviation from the conventional 52-card pack used in many other card games. The initial move is made by the player with the lower trump, further adding to the game's intriguing strategic depth. Additionally, Durak offers two playing modes: Simple Durak and Throw-In Durak, catering to various player preferences and offering extensive replayability.
The Historic Roots of Durak
Durak is more than just a game; it is a piece of cultural history. Originating in the late 18th century Russian Empire, the game quickly became a favoured pastime among peasants and industrial workers. During the 1812 Russo-French war, the game's popularity escalated as it was popularised by the Imperial Army conscripts. Following the October Revolution, Durak transcended social boundaries, becoming the most popular card game across various social strata in the Soviet Union. This rich history adds an extra layer of allure to the already enthralling game.
The Goal and Strategy of the Game
The essence of Durak lies in its ultimate objective: to rid yourself of all cards in your hand. The strategic element stems from choosing the optimal moments to play your trump cards and accurately predicting your opponents' moves. The last player left with cards becomes the 'durak' or 'fool'. The gameplay encourages strategic thinking and decision-making skills, providing both entertainment and mental stimulation. It's a game of wit, strategy, and perseverance, where the stakes rise with each played card.
Experience Durak Today
Engage in a game of Durak today and experience the thrill, the challenge, and the joy it offers. Whether you are an experienced card player or a beginner looking for an exciting new game, Durak is a must-try. Experience firsthand the unique gameplay mechanics, delve into the game's rich history, and rise to the challenge of becoming the last player not labelled a 'fool'. Durak offers an unmatched online gaming experience that combines history, strategy, and fun in a free-to-play format. Start your Durak journey now!
What are the best online games?
Tags