DUO With Friends - Multiplayer Card Game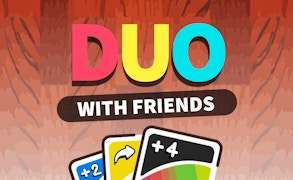 DUO With Friends - Multiplayer Card Game
Description
Dive into the exciting world of DUO With Friends - Multiplayer Card Game. This thrilling game takes basic card gaming and elevates it to a whole new level of fun and strategy. Whether you're playing with friends or matching wits against the computer, you'll find this game both engaging and challenging. It's the perfect mix of traditional card play with a fresh, digital twist.
How to Play
In DUO With Friends, your objective is to empty your hand before your opponents. Game controls are straightforward: simply click on the card you want to play. Make sure to match either the color or number of the top card on the pile. Remember, special action cards can change the flow of the game instantly!
Tips and Tricks
Mastering DUO With Friends requires strategy. Don't rush to play your special action cards - save them for when they'll have the most impact. Pay attention to your opponents' gameplay, anticipate their moves and shift your tactics accordingly.
Features
Multitude of cards with unique actions and effects
Option to play against friends or AI opponents
User-friendly interface for seamless gameplay
Interactive game mechanics that require strategic thinking
A fun and engaging way to test your tactical skills
What are the best online games?