Dungeon.ro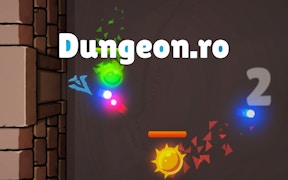 Dungeon.ro
Unleash your battle prowess in the newest sensation in .io games, Dungeon.ro. This entrancing survival game uniquely merges 2D shooting dynamics with the depth of an RPG, offering a compelling blend of thrill and strategy. As an adrenaline-pumping amalgamation of survival games and battle games, Dungeon.ro provides an unparalleled gaming experience for enthusiasts of both genres.
At its heart, Dungeon.ro is a test of skills and mettle, rendering it a prime pick for fans of skill games. The style is reminiscent of classic dungeon crawlers, yet it infused with modern elements like a well-developed level system and tactical upgrades. Each game is not just about outshooting your opponents; it's about meticulously crafting your character, strategically levelling up, and intelligently using upgrades to maximize your potential in the heat of battle.
The graphics are beautifully simple; the 2D design harks back to golden age gaming but is enhanced with sleek touches that add a contemporary feel. Onto this visual stage unfolds frantic action that will keep you on your toes as you navigate through tricky dungeons fraught with danger at every turn.
Dungeon.ro stands as a testament to the evolution in .io genre; it brings together classic elements from survival games and battle games while seamlessly adding RPG-esque features such as level systems and upgrades. It's not just a game; it's an arena where only those with real skill can shine.
To wrap up this review, Dungeon.ro may well be one of the most innovative releases we've seen recently in .io genre. For gamers seeking an exhilirating blend of survival, battle and skill challenges – step into the dungeon and fight for glory!
What are the best online games?