Dumb Ways to Die 3: World Tour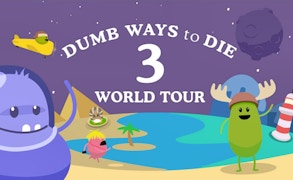 Dumb Ways to Die 3: World Tour
Calling out to all our puzzle fanatics and aficionados of fun games, there's a new buzz in the block. Immerse yourself in the madcap world of 'Dumb Ways to Die 3: World Tour', an engaging and fun-filled amusement guaranteed to keep you on your toes.
The game is a spin-off from the globally recognized Dumb Ways to Die brand that boasts over 300 million downloads between Apple App Store and Google Play. It's time to test your reflexes and dive headfirst into a myriad of challenging mini games galore, where a millisecond could mean the difference between glorious victory or heartbreaking defeat.
The mechanics skin past standard clicker games, steering towards a more challenging, yet delightful domain of interactive frenzy. As players navigate through these insanely entertaining adventures, they rack up coins for each challenge faced. But it doesn't end there, these coins can then be used to restore the once thriving metropolis of Dumbville back to its former glory.
As far as tap games go, 'Dumb Ways to Die 3: World Tour' indeed rolls out a meticulously woven tapestry of exhilarating suspense interspersed with moments of laughter, making it an exceptional entrant in this genre. The game invites players from across the globe to step into their character's shoes (or lack thereof) and embark on an unpredictable, thrilling journey that keeps you coming back for more.
All said and done, if you are on the lookout for a rendezvous with thrill and hilarity or just seeking an escape from boredom, look no further! Dumb Ways to Die 3: World Tour is just the fix you need!
What are the best online games?