Dumb Ways to Die 2: The Games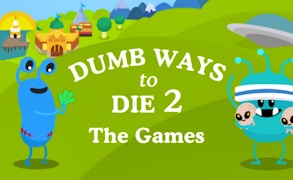 Dumb Ways to Die 2: The Games
Prepare yourself for an exhilarating plunge into the amusing and somewhat eccentric world of Dumb Ways to Die 2: The Games. As a sequel to the mega-popular franchise, this game boldly cements its status in the top-tier of fun clicker games and tap games.
Dumb Ways to Die 2: The Games rejuvenates the puzzle genre with a refreshing blend of quirkiness and challenging gameplay. This unique offering transcends typical boundaries to inject enjoyment, providing players with an abundance of mini games loaded with beloved characters from the Dumb Ways to Die universe.
This standout game appeals to both the spontaneous gamer yearning for a quick session and also to those drawn towards longer play sessions. Test your reflexes in this exhilarating platform where reactions are pushed to their limit - be warned though, a millisecond can mark the difference between victory and defeat. In Dumb Ways to Die 2, every second is crucial.
Scores in the form of coins are rewarded for each challenge completed. The accumulated treasure then serves a noble cause - restoring the once-glorious town of Dumbville back to its former pride. Here, logical problem-solving meets pure entertainment in what can only be described as one of the most engaging fun games.
With over 300 million downloads across Google Play Store and Apple App Store combined, Dumb Ways to Die has unquestionably become a worldwide brand. Its successor makes no exception either, delivering one of the most compelling clicker games on these platforms. For fans of tap games seeking that extra crunch of fun mixed with a dash of thrill, Dumb Ways to Die 2: The Games is a must-have in your gaming collection.
What are the best online games?