DuckPark.io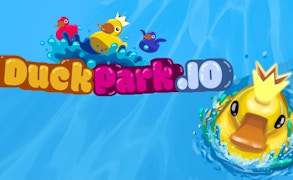 DuckPark.io
Immerse yourself in the quacking madness of DuckPark.io, a terrifically entertaining addition to the pantheon of .io games that impressively welds together the fun-packed elements from various genres like animal games, driving games, fun games, and running games.
DuckPark.io puts you in the feathery feet of a courageous rubber ducky, racing against the tide down a thrilling water slide. The concept is simple yet addictive, echoing the charm of animal-themed games with a unique twist. It's not just about arriving first at the bath; it's about embarking on a rip-roaring ride filled with unexpected challenges and strategic gameplay.
The game excels at injecting frantic fun reminiscent of classic driving and running games into its physics-based gameplay. As you navigate through obstacles, perform high stakes aerial acrobatics and out-maneuver your rivals, it's all about precision control, quick thinking, and perfectly timed actions. This exhilarating combo propels DuckPark.io far beyond being just another one of those fun games.
What gives this splashing game an extra edge are its vibrant aesthetics and engaging progression system. Flying off the track to collect gliders and pushing opponents off their path demands strategic planning and wickedly sharp reflexes. Moreover, the glorious quest to unlock new duck skins alongside setting new records delivers an unwavering sense of accomplishment.
In conclusion, DuckPark.io stands out as a highly enjoyable mix of genres that will quench your gaming thirst like nothing else. It's more than just an incredibly fun game, it's a wild ride that transports you back to those childhood days filled with the joyous excitement grown-ups can only dream about!
What are the best online games?