Drop N Merge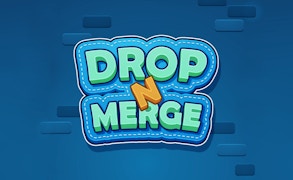 Drop N Merge
Description
"Drop n Merge" is a relaxing and challenging merge block game that will put your strategic thinking skills to the test. This game is all about synergy and decision-making as you drop number blocks onto the grid, combining identical ones to form larger numbers. There's no time pressure, so you can plan your moves and enjoy the fun at your own pace!
How to play
To start, simply tap or click on the screen to drop number blocks into the grid. When two identical numbers come into contact, they'll automatically merge into a single block with a higher value. Your target is to create as big numbers as possible without filling up entire space. Remember, there's absolutely no time limit, so take your time and plan well!
Tips and Tricks
Always plan a few moves ahead to avoid filling up the grid too quickly - a full grid means game over! Try creating chains of merges for higher scores. Remember, patience is key in this game; there's no need to rush.
Features
No Time Limit: You can take all the time you need to strategize your next move.
Addictive Gameplay: Simple but challenging mechanics maintain interest throughout play.
Cool Graphics: Clean and clear interface makes gameplay more enjoyable.
Mental Exercise: Improve math skills and strategic thinking while having fun.
What are the best online games?