Driving Service Passenger Bus Transport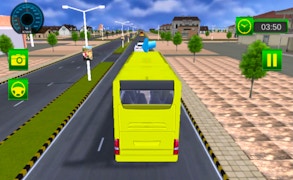 Driving Service Passenger Bus Transport
For those looking for an adrenaline rush from the comfort of their gaming chairs, Driving Service Passenger Bus Transport is a high-ranking contender among simulator games. But hold on to your gearshift, this isn't just one of your regular car games, it's a full-on immersive bus driving experience.
If you've been cruising the gaming market for something that fits snugly in the realm of both truck games and parking games, this game has got you covered. It puts you in the driver's seat of a passenger bus to offer a unique spin on traditional driving simulations. Exhilarating, immersive, and certainly not for the faint-hearted - if you crave excitement and responsibility at every turn (literally), this is the game for you.
From bustling city stations to quaint countryside towns, each new environment keeps players engaged with varying challenges and tasks. The realistic physics engine coupled with intuitive controls make for a driving experience that blurs the line between virtuality and reality. Moreover, its dynamic weather system and day-night cycles contribute to an overwhelmingly authentic driving experience.
The game essentially tests your mettle as a bus driver as you ferry passengers from station to station or town to town. You'll be negotiating tight turns, navigating heavy traffic, mastering tricky parking manoeuvres, all while ensuring passenger safety - it's not exactly an idle joyride.
The game doesn't just stop at being an engaging driving game, but also pushes the envelope by including elements of strategy. Balancing time schedules, optimizing routes and managing fuel economy become equally important as your driving skills.
In conclusion, Driving Service Passenger Bus Transport is a finely tuned machine within the pantheon of racing games. It will have you gripping your controller tighter than ever before as it thrusts you into the world of professional bus driving.
What are the best online games?