Drive To Wreck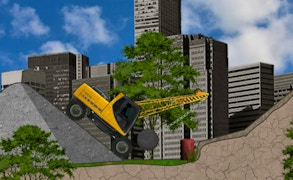 Drive To Wreck
Are you a fan of high-octane driving games, a lover of thrilling car games, an enthusiast of monstrous truck games, a connoisseur of strategic parking games, or an addict of adventurousOffroad games? Buckle your seatbelts and prepare for the ride of your life because "Drive to Wreck" caters to all your gaming fancies.
"Drive to Wreck" is no ordinary racing game. The title itself yells out loud a promise of wreckage and destruction, and indeed, it delivers. As you take control of a massive wrecking ball truck, every mile comes with its own surprises as you navigate through an exhilarating world filled with obstacles that stand in your way.
The heart-pounding excitement is impossible to ignore as this game combines the thrill of off-road driving with the strategic precision required in parking games. It's like being behind the wheel in an action movie scene, taking down everything that stands between you and your destination. Underestimating this masterpiece would be like ignoring a roaring V8 engine on a quiet street.
"Drive To Wreck" isn't just about demolition though - it's also about strategy. The user interface and controls are designed to challenge not just your driving skills, but also your strategic thinking. You'll need to adapt quickly and use the wrecking ball wisely to destroy various constructions blocking your path without capsizing your truck.
In conclusion, "Drive To Wreck" effortlessly blends elements from different gaming genres to create something remarkably unique. It's like sipping on a cocktail prepared by combining the best elements from car games, truck games, off-road games, and parking games into one irresistible package. "Drive To Wreck" is more than just another racing game - it's an experience you won't want to miss!
What are the best online games?