Drive Boat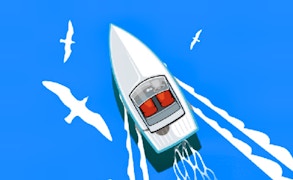 Drive Boat
Immerse yourself in the adrenaline-pumping world of Drive Boat, a pioneering addition to the realm of Racing Games that beautifully blends the thrill of driving games with the strategic depth of management games.
Drive Boat provides a unique gaming experience, expertly meshing speed and strategy. It's not just about being the fastest, which would stir up enough excitement on its own, but here you are also tasked with the responsibility of meticulously managing your mission. Your challenge is not merely a race against time, but includes picking up passengers and ensuring their safe arrival at their destinations.
The formula of Drive Boat seems intriguingly simple: drive your boat to pick up passengers and deliver them to their destination. But as you make your way through the in-game waterways, dodging rival boats and confronting unexpected challenges, it quickly becomes apparent that this game is anything but elementary.
The precision required to avoid collisions and reach your destination spruces up this game with an edge-of-the-seat excitement synonymous with top-tier Racing Games. Still, it is Drive Boat's surprising integration of management aspects that sets it apart as a distinctive force in driving games.
In conclusion, whether you are an avid fan of high-speed thrills or thought-provoking strategy games, Drive Boat guarantees an unforgettably exhilarating gaming experience. With its clever combination of speed-based gameplay and passenger management mechanics, it creates a unique fusion of styles that will keep gamers hooked for hours on end.
If you're eager to unleash your inner speed demon while showcasing your management prowess amid high-stake river races, then buckle up for this exceptional voyage that is Drive Boat - A testament to innovation in Racing Games.
What are the best online games?