Drifty Master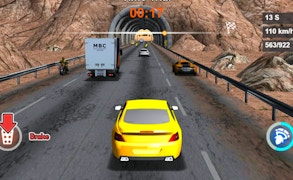 Drifty Master
Prepare to be mesmerized by the thrill of speed, precision, and control in Drifty Master, a premier title in the booming genre of racing car games. It's not just about speed; it's a captivating blend of strategy, skill, and serpentine tracks that sets this game apart in a crowded market of generic driving games.
The first thing you'll notice about Drifty Master is its eye-catching 3D game art animation. From the sleek lines of the roadster racing cars to the painstakingly detailed racetracks, every visual component is designed to plunge you head-first into the adrenaline-fueled world of professional racing.
If you're a fan of car games, this is your playground. Brace yourself for intense challenges spread across an impressive roster of 200 levels. And with each subsequent level, expect the difficulty to ramp up, pushing your driving skills to their absolute limits.
But Drifty Master isn't just about fast cars and faster reflexes. It adds another layer to its gameplay with a clever upgrade system. Think you've mastered the art of drifting games? Well, upgrading your current car or unlocking new ones will provide a fresh test to your driving capabilities.
In conclusion, Drifty Master is more than just another addition to the oversaturated genre of skill games. It's a high-octane symphony of speed and strategy that demands precision and rewards persistence. So strap in, hit the gas and embark on an unforgettable journey through this top-tier drifting game.
What are the best online games?