Drifting Mania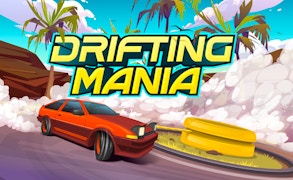 Drifting Mania
Description
Welcome to Drifting Mania, an adrenaline-pumping racing game where the asphalt is your domain. Here, there are no second chances. Every turn and drift counts in this high-speed pursuit of victory. As you race through intricately designed tracks, you'll find that mastery comes not from speed alone, but also from precise control and well-timed drifting. It's a test of timing, skill, and sheer driving bravado.
How to Play
Control your vehicle with the arrow keys or WASD controls. The key to winning is not just speed, but accurate drifting around turns. To initiate a drift, release the acceleration key and then quickly press it again while steering in the direction you want to go. Perfect your timing to maintain control over your car while drifting and rack up points.
Tips and Tricks
Mastery of controlled drifting is key. Drifting not only allows you to maintain speed on turns but will also earn you more points the longer you can keep it going. Also, practicing on different tracks will help familiarize yourself with varying terrain types and turn complexities.
Features
Realistic Drifting Mechanics: Experience authentic drifting with lifelike car controls.
Diverse Race Tracks: Tackle various tracks each offering unique challenges.
Rewarding Scoring System: Earn points for demonstrating impressive drifting skills.
Precision-based Gameplay: Skill and timing are more important than sheer speed.
What are the best online games?