Dream Pet Link 2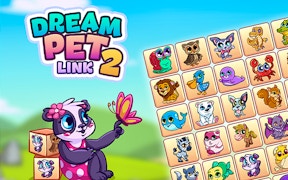 Dream Pet Link 2
Embark on an enchanting journey in the magical world of Dream Pet Link 2, an exquisitely crafted online board game designed to nourish and nurture young minds. This game beautifully amalgamates the charm of animal games and the mental stimulation of mahjong games, expertly presenting a delightful gaming experience that's both fun and educationally enriching.
Dream Pet Link 2's essence lies in its absorbing tile matching gameplay, challenging you to locate and obliterate doubles from the board. Each level punctuated with adorable creatures only adds to its allure, making it a favourite among kids who relish animal games. But don't mistake this for just another child's play; with two unique difficulty modes on offer, it's sure to engage adults with equal vim!
The easy mode, with its fewer tiles and abundance of clues, sets a slower pace perfect for unwinding at leisure or introducing beginners to the fascinating world of mahjong games. On the flip side, hard mode adventures are not for the faint-hearted! They demand keen attention, sharp memory, and swift decision-making skills — testing your mettle at every stage.
Dream Pet Link 2 is more than just a game- it's an excellent brain-trainer wrapped in an entertaining package. Both casual gamers seeking relaxation and serious players yearning for challenge can find their heart's desire here. The striking visuals coupled with captivating gameplay make it undeniably addictive; you're bound to return for more! Dive into this extraordinary puzzle today and let your mind wander in its intriguing labyrinth!
If you're on the hunt for top-notch children's board games online that are free to play or if you're a fan of animal or mahjong games- your search ends at Dream Pet Link 2! Enter the enchanting realm of brain-teasing puzzles and endearing creatures today!
What are the best online games?