Dream Pet Link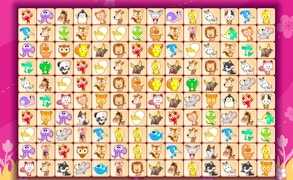 Dream Pet Link
Unleash your inner child and embark on a fantastical journey through the delightful world of Dream Pet Link, a charming addition to the pantheon of mahjong games with a unique twist. Infusing the classic tile-matching gameplay with adorable animal games aesthetics, this game is a whimsical gem in the grand landscape of Games for Kids.
In Dream Pet Link, your mission is simple yet captivating: Connect identical tiles and clear the board. But don't be fooled by its simplicity! Behind its deceptively straightforward facade lies an enchanting universe populated by cute creatures. From regal lions and quirky penguins to cuddly sheep, each level features a smorgasbord of charming critters to keep you entertained.
But that's not all! Dream Pet Link goes above and beyond by offering nine different levels, each one with its unique challenges and fun factor. The ticking time factor adds an exciting edge to the gameplay, pushing you to make quick decisions while maintaining accuracy — ensuring no two games are ever the same.
The stunning visuals embody the essence of pure joy, and their gentle pastel hues make them a feast for your eyes — perfect for our younger gamers yearning for some screen time. Whether you're on the hunt for an engaging pastime or seeking to introduce your little ones to the enchanting world of mahjong games, Dream Pet Link is truly a dream come true.
Come find out why Dream Pet Link has carved a niche for itself in the hearts of lovers of mahjong games, animal games, and most importantly, top-notch quality Games for Kids.
What are the best online games?