Draw the coffee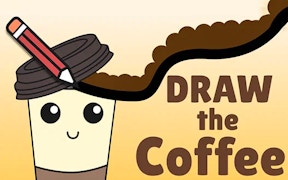 Draw the coffee
Step into the delightful world of Draw the Coffee, a unique addition in the domain of brain games that cleverly merges artistic flair with cognitive challenges. This diversion is not just your typical drawing game, but an immersive experience that provides a much-needed break after a tedious day at work.
Draw the Coffee, as the title suggests, tasks players to trace intricate coffee-themed illustrations with precision and speed. The gameplay is ingeniously devised to compel players to ignite their grey matter and manoeuvre through complex obstacles that add a splash of difficulty to this otherwise relaxing game.
This game spectacularly bridges the gap between fun games and drawing games. On one hand, it's a whimsical journey through a caffeine-fueled world which soothes your senses; on the other, it serves as an exercise for honing analytical thinking and fine motor skills, making it
If you're seeking out stress relief and an escape from your daily grind, this game hits all the right chords. By immersing yourself in Draw the Coffee, you'll find an effective method to calm down and unwind. As you trace your way through steaming mugs and aromatic beans, you are invited to leave behind troubles of reality.
In conclusion, Draw the Coffee is more than just another addition to the realm of brain stimulating exercises; it's a testament to how gaming can be both fun and relaxing while still leaving room for intellectual stimulation. Try Draw The coffee today for one of the most enjoyable intermissions from reality you will find in any game.
Sip on its tranquillity, savor its challenges, leave recharged.
What are the best online games?