Draw Park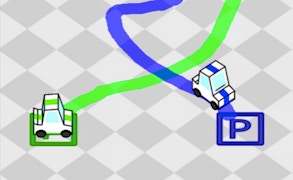 Draw Park
If you're a fan of car games, drawing games, and parking games, you're in for a treat with the innovative, fun, and challenging game - Draw Park. It's a smart fusion of the aforementioned genres that tests your strategy and spatial awareness, offering you an addictive diversion with the power to keep you hooked for hours.
In Draw Park, you're not just maneuvering vehicles into parking spaces; you're creating the path yourself! You do this by drawing lines which guide each car to its correct parking space. The mechanics are simple yet superbly engaging. The game smoothly integrates aspects of car games with the hand-drawn creativity usually found in drawing games, topped off with the precision needed for adeptly playing parking games.
The graphics are beautifully clean and colorful, effortlessly drawing your attention and keeping it there. Each level presents a new labyrinth of parking spots that ramp up in difficulty, ensuring that your interest never wanes. The appeal isn't purely visual either; your mental agility is also put to the test. Every level requires plotting efficient paths while avoiding obstacles—demonstrating that this is not just about getting from point A to B, but also about choosing the best route possible.
Whether you're navigating compact cars or SUVs, Draw Park has managed to breath fresh life into both the traditional parking game genre and the modern twist on mobile-centric drawing games. It's an entertaining blend of strategy, quick thinking, precision, and creativity—a formula rarely seen in puzzle gaming today. If you have a knack for car-based puzzles or love flexing your creative muscles now and then, Draw Park is certainly worth a spin.
In conclusion, whether you are a casual gamer seeking some light fun or a puzzle enthusiast craving something out-of-the-ordinary, Draw Park is sure to satiate your gaming appetite by combining elements from our beloved car games into one cohesive experience.
What are the best online games?