Draw Car Race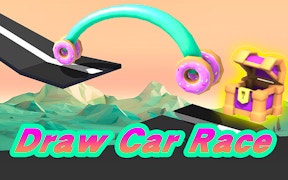 Draw Car Race
Welcome to the remarkable world of Draw Car Race, a fast-paced and imaginative fusion of racing and drawing. This game turns sketches into speed, pencil lines into performance cars, offering a new twist in the realm of car games.
Despite being primarily a racing game, Draw Car Race doesn't limit itself to conventional car games norms. This 3D masterpiece is perfect for those who love the thrill of a high-stakes race but also possess an artist's heart. The premise is simple: any draw will change to a car, transforming your artistic strokes into impressively rendered 3D vehicles.
This feature also adds a layer of strategy rarely seen in car games. Your hastily sketched sedan or intricately drawn sports car will vary in speed and stability, making every race an exciting challenge. The game's easy-to-understand controls ensure that everyone can jump in and start revving up their own custom vehicles without delay.
Apart from its innovative approach, Draw Car Race excels visually. Its 3D graphics are clean and appealing, with smooth frame rates that make each race feel as immersive as the last. It successfully captures the exhilarating essence of speed while maintaining its unique drawing mechanics.
In essence, Draw Car Race is more than just another name in drawing games. It marries two seemingly contrasting genres – racing and drawing – into one seamless and enjoyable experience. Whether you're an everyday gamer seeking novelty or a dedicated artist looking to burn some rubber, Draw Car Race is bound to fuel your passion with every race.
To sum it up, Draw Car Race is creativity at its finest – where art meets adrenaline under one gaming roof. Unleash your creativity on the racetrack today!
What are the best online games?
Tags