Dotted Girl Family Christmas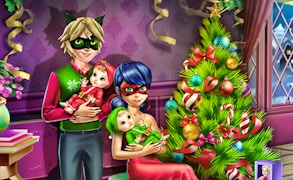 Dotted Girl Family Christmas
Step into the festive world of Dotted Girl Family Christmas, a delightful game for girls that allows players to experience all the fun and warmth of the holiday season. This game is not just another addition to the pile of Christmas games, but a unique journey that beautifully combines the concept of baby games, which is rare and worth appreciating.
The game begins by setting you into a heartwarming family scenario where your first task is to help mommy clean up a messy room - an environment many kids will find relatable, making it an instantly engaging experience. You'll find yourself washing windows, placing clothes in baskets, and dusting surfaces, teaching players about household responsibility in a fun, interactive way.
As anticipation for Santa's arrival builds up, you're given ample time to decorate the room while munching on some deliciously illustrated gingerbread cookies. The decoration part is utterly satisfying; you get to choose your favorite designs from an array of options provided, allowing for creativity and personal style to take centre stage.
The climax of the game arrives when Santa finally shows up bearing amazing presents for the kids - an excitement-filled moment every player looks forward to. It's not just about receiving gifts; it's about creating memories that will stay with them long after they've left the gaming world.
In conclusion, Dotted Girl Family Christmas successfully encapsulates the spirit of Christmas into its vibrant, engaging gameplay offering educational value interwoven with wholesome entertainment. Perfect for young gamers looking for a memorable playtime experience during this holiday season.
What are the best online games?