Dotted Girl Christmas Shopping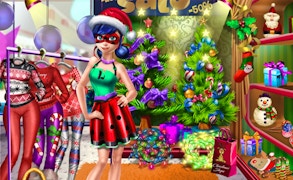 Dotted Girl Christmas Shopping
Immerse yourself in the festive spirit with the captivating Dotted Girl Christmas Shopping, a game that elegantly blends elements of 'games for girls', 'Christmas games', and 'money games' in an enticing world of vibrant graphics and exciting gameplay. Perfectly tailored for flairful fashionistas who love dressing up, it's time to step into the snow-clad world of Dotted Girl.
This creatively crafted game from the realm of dress up games and fashion games promises an engaging journey that starts with Dotted Girl prepping for her perfect Christmas. The excitement begins as she hunts down the most picturesque Christmas decorations, transforming her home into a cozy winter wonderland. But wait, your shopping sprees aren't free - you've got to earn your bills!
In this electrifying combination of money games and Christmas games, players work hard to build their treasury, allowing them to splurge on stunning Christmas trees, twinkling festive lights, and delightful presents. Found a decoration that caught your eye but running low on cash? No need to worry, just head back and work some more. The gameplay is simplistic yet captivates kids with a real-life scenario.
In the richly detailed world of Dotted Girl Christmas Shopping, fashion is the name of the game. It's an oriental approach towards teaching kids about money management while fostering creativity through interactive dressing up sessions in a holiday setting that is sure to keep them hooked.
Weaving together aspects of various genres like 'games for girls', 'dress up games', 'Christmas games', and 'money games', Dotted Girl Christmas Shopping provides not just an entertaining gaming experience but serves as an educational tool as well. This game is indeed a splendid blend of fashion-forward thinking with practical money lessons weaved into the gameplay, providing kids with a fun-filled learning experience this holiday season.
What are the best online games?