DOP Puzzle Displace One Part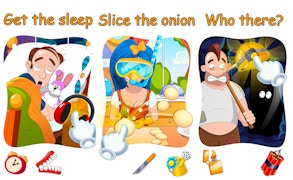 DOP Puzzle Displace One Part
Description
DOP Puzzle: Displace One Part is an engaging brain-teaser that is sure to challenge your wit. This game weaves a delightful narrative across different levels, each crafted as an amusing and fascinating story in itself. In this unique puzzle game, the objective is to manipulate parts of the animated image to reveal the hidden scenario. The graphics are beautifully designed in a vibrant cartoon style which makes the puzzles visually appealing.
How to Play
The game controls are extremely user-friendly; simply drag and drop objects within the image to solve the puzzle. Each level represents a visual story that can only be deciphered by displacing one part of the image accurately. Progress through the game by cracking each puzzle and unearthing the hidden narrative within it.
Tips and Tricks
Always take your time before making your move. Analyzing every detail in the graphic can help unveil clues necessary for solving the puzzle. Remember, you're only required to move one part of the image, so focus on identifying that pivotal element.
Features
Pleasant and fun mental workout
Puzzle solutions involve dragging parts of an image
Over 50 intriguing puzzles designed for hours of gameplay
Vivid animations which make solving puzzles even more enjoyable
What are the best online games?