Doodle God: Good Old Times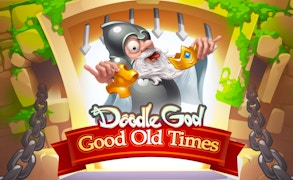 Doodle God: Good Old Times
Immerse yourself in the magical world of Doodle God: Good Old Times, a meticulous blend of learning games, educational games, knight games, building games, and simulator games. A perfect amalgamation of fun and education, this game will walk you through bygone eras, invoking nostalgia and excitement at the same time.
The premise is simple yet challenging: you start as a humble peasant and your goal is to elevate yourself to the ranks of a mighty knight or a noble lord. The real beauty, however, lies in how you get there. Through a genius mix of puzzle elements, each decision becomes an opportunity to learn, grow, and build.
The standout feature of Doodle God is undoubtedly the ability to construct castles. As part of this riveting building game, erect towering structures as per your vision - from imposing siege towers to humble taverns replete with merriment and beer! The rich details in this simulator game make every creation rewarding.
This game's prowess lies in its educational aspect amidst the medieval gameplay. It smoothly integrates learning elements that challenge your intellect and strategic thinking – marking it among the top-ranking educational games.
In terms of stimulation, Doodle God harks back to classic knight games involving soldiers, peasants, catapults - turning it into an adventure-fueled learning experience. Be ready to don the armor at any moment and lead your people into battle!
The grandeur of Doodle God: Good Old Times does not end here. With hundreds of elements to mix and match in this unique puzzle game, every play-through offers something new, making it an evergreen addition to your gaming library. An undeniable treat for fans of building games & simulator games – all wrapped up in one unforgettable package.
What are the best online games?