Doodle God: Fantasy World of Magic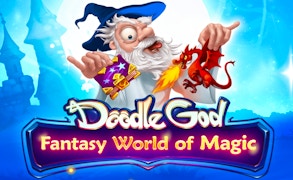 Doodle God: Fantasy World of Magic
If you're a fan of educational games, learning games, and building games with an added hint of fantasy, then you're in for a treat. I bring you a detailed review of the enchanting game - Doodle God: Fantasy World of Magic.
From the creative minds behind Doodle God, this game offers an impressive mix of genres including puzzle, simulation, and - dare I say it - dragon games. The dazzling realms are filled with elements of magic and wonder, with Dragons, Warlocks, and Wizards adding to the sheer allure.
You enter an extraordinary world of fantasy, stepping into the shoes (or rather, the swirling cloak) of a powerful Wizard. Your tools are not mere bricks and mortar or sims to control; instead, you engage in the incredible task of mixing and matching hundreds of elements. From dark magic to evil Sorcerers and majestic Dragons, these are your building blocks.
The amalgamation of learning and building makes it one of the most engaging educational games out there. True to its name, Doodle God: Fantasy World of Magic turns you into a benevolent deity — creating worlds teeming with magic and wonder, building up from scratch. It's much more than just another simulator game; it's an experience that leaves even seasoned gamers awestruck.
The gameplay is as intriguing as its premise — concocting unique combinations to discover new elements while venturing deeper into this mystical world. For fans of dragon games or simulator games seeking something fresh yet familiarly enticing, Doodle God: Fantasy World of Magic should be your next go-to gaming adventure.
In conclusion, Doodle God: Fantasy World of Magic captivates its audience by beautifully marrying educational games with fantastical elements in an immersive simulation. Whether it's learning with every exploration or building new worlds piece by piece—this game has made itself a worthy addition to any gamer's library.
What are the best online games?