Donut Slam Dunk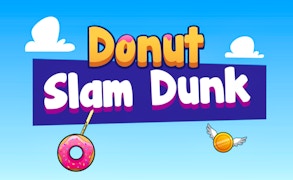 Donut Slam Dunk
Prepare yourself for a sugar-infused spin on arcade, ball games, and basketball games, as we dive into the world of Donut Slam Dunk. A game that perfectly embodies the charm of Hyper Casual Games, it is sure to leave you craving for more (and perhaps, a doughnut or two).
The game presents you with an interesting challenge: you have a doughnut, sweetly swinging from a rope. Your aim? Time that delicious release perfectly to achieve your very own Donut Slam Dunk. This deceptively simple task makes for one of the most addictive Skill Games around, requiring you to harness your inner gamer to land those satisfying slam dunks.
The visuals are a treat, akin to walking into your favorite bakery and being greeted by shelves upon shelves of decadent doughnuts. The controls are intuitive and effortless, ensuring that you're focusing more on the trajectory of your doughnut than fumbling with complicated gameplay mechanisms.
But don't let its delightful exterior deceive you — Donut Slam Dunk demands precision and patience. A split second can mean the difference between a triumphant dunk or an unfortunate miss. The question then becomes: how many donut slam dunks can you make?
In conclusion, Donut Slam Dunk seamlessly blends elements of classic arcade games with the thrill of basketball games. It tests your skills like top-tier Hyper Casual Games, all while keeping you engaged with its charming theme. So next time when your fingers itch for some gaming action, remember: The best place to score is not in a court but in a box...a donut box to be exact.
What are the best online games?