Donut Shooter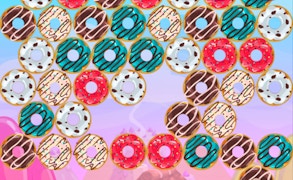 Donut Shooter
Step into a world sprinkled with sugar-coated challenges and glazed with fun in Donut Shooter, a standout title among Bubble Shooter Games. This light-hearted arcade extravaganza takes the addictive mechanics of classic bubble poppers and brilliantly layers them with irresistible donut-themed visuals. The sweetness of your success relies entirely on your ability to match identical donuts, resulting in an enticing, sugar-rush experience that offers more than just a delightful twist on the genre.
As soon as you get your fingers on Donut Shooter, you'll be entranced to see a screen aglow with an array of scrumptious pastries, their vibrant colors drawing you in almost as much as their mouth-watering designs. Each donut represents a different power and challenge - matching these pastries is not only tantalizing but also a strategic endeavor, offering players a fresh perspective on the familiar Bubble Shooter Games.
The gameplay hinges on the player's proficiency at taking aim and making precise matches - juxtaposing speed against accuracy. Be careful though, if you become too engrossed in admiring the delightful array of sweet treats and allow them to cross the predefined line – it's game over! Adding to its dynamic flow are the fast-paced levels that keep you on your toes, making every move count.
Donut Shooter manages to wistfully combine elements of strategy and instant gratification that will keep fans of the genre (and donuts!) hooked, proving itself as one of the tastiest options for lovers of Bubble Shooter Games. So go ahead — taste the sweetness of victory, bite into this arcade sensation that perfectly caters to casual gamers looking for a sprinkle of fun.
What are the best online games?
TAGS