Domino Battle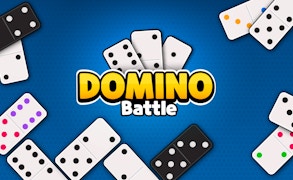 Domino Battle
Description
Immerse yourself in the classic game of Domino Battle. Offering a unique, modern twist on this traditional board game, you can choose from different styles such as Draw or Block to maintain interest and excitement. Each mode provides a unique gaming experience so you can enjoy the thrill regardless of your choice. Get ready for endless hours of strategic gameplay and fun!
How to Play
In Domino Battle, you begin by choosing your preferred style - Draw or Block. Use your mouse to pick and place dominoes on the board. Your main goal is to strategize and outsmart your opponent by making them run out of possible moves. Remember, the fun lies not only in winning but also in the process!
Tips and Tricks
To excel at this game, it's essential to plan ahead. Consider all possible moves before placing your dominoes. Pay attention to the dominoes your opponent has played; this way you can predict their potential moves and strategically block their progress.
Features
Dual Game Modes: Choose from Draw or Block style gameplay.
Classic Strategy Game: Enhances cognitive skills and strategic thinking.
User-Friendly Interface: Easy-to-navigate game with smooth controls.
Addictive Gameplay: Offers hours of fun-filled gaming experience.
What are the best online games?
Tags