Dog & Duck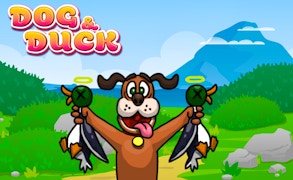 Dog & Duck
Description
In Dog & Duck, embrace the thrill of a traditional hunting game with a twist. Armed with your trusty gun, your objective is to hit as many ducks as you can, assisted by your faithful dog companion. The game brings an exciting mixture of fast-paced shooting, precision targeting, and dynamic duck movements on your screen. The unique addition of a helpful canine makes this more than just an average hunting game.
How to Play
Playing Dog & Duck is simple yet challenging. Use your mouse to aim and left-click to shoot at the ducks appearing on your screen. Timing and precision are essential for high scores. Your dog will assist by retrieving the shot ducks and pointing towards unseen ones. As the game progresses, ducks become faster and more elusive, increasing the difficulty level.
Tips and Tricks
To excel in Dog & Duck, make sure to master rapid aiming and timing of shots for maximum accuracy. Keep an eye on the dog's actions for valuable hints about duck locations. Don't rush - pausing between shots can improve your success rate and score high points.
Features
Dynamic gameplay with evolving difficulty levels.
An interactive sidekick dog that provides helpful hints.
User-friendly controls suitable for players of all ages.
Realistic graphics that enhance the immersive hunting experience.
What are the best online games?