Dockyard Tank Parking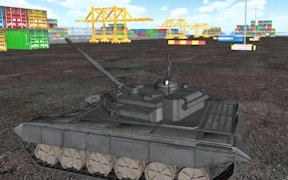 Dockyard Tank Parking
If you have a thirst for tank games, driving games, skill games, and an unusual twist on parking games, then certainly, Dockyard Tank Parking is going to satisfy your gaming cravings.
Dockyard Tank Parking offers a unique blend of all these game genres, putting players at the helm of massive tanks. The concept is simple but captivating; navigate these colossal machines through intricate dockyard mazes and park them in designated spots. It's not just another vanilla driving game; it's a test of strategic thinking and handling prowess.
The true beauty of this game lies within its multiple levels. Each level presents an escalation in complexity, progressively testing your skills and keeping you engrossed for hours on end. The gameplay is highly engaging; the satisfaction derived from successfully maneuvering these heavy-duty tanks into the correct parking spots is incomparable to anything else.
An important highlight of this game is its remarkable fusion of real-life physics with arcade-style mechanics. Whether you're a seasoned gamer or just dipping your toes into the world of tank games, Dockyard Tank Parking guarantees adrenaline-pumping entertainment paired with an interesting challenge.
In conclusion, Dockyard Tank Parking stands as a benchmark in tank-based parking skill games. It offers an optimal combination of thrills and strategic gameplay that makes it one-of-a-kind. You won't find this mix in driving games that often! If you're looking for a thrilling yet challenging gaming experience, Dockyard Tank Parking should undoubtedly be your next stop!
What are the best online games?