Dinosaurs Merge Master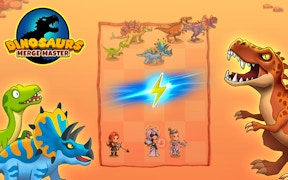 Dinosaurs Merge Master
Prepare to step into a thrilling world where warring dinosaurs, knights, and archers run wild in the heart-pounding spectacle that is Dinosaurs Merge Master. An evolution among dinosaur games, this battle-royale-turned-arcade-extravaganza offers riveting combat gameplay, merging mechanisms and elements of strategy that pivot it significantly ahead of the genre's competition.
Embrace the fight, plunge your sword into the heart of battle and test your mettle in the surge of sword games. As one of the most compelling battle games to hit our screens this year, Dinosaurs Merge Master melds together quick-thinking strategy with adrenaline-fueled combat to fantastic effect.
Not just restricted to swords alone, Dinosaurs Merge Master also dabbles into the realm of archery games offering a refreshing take on range-based warfare. Whether you fancy yourself a knight or an archer, this game satisfies your every fantasy making it one of those knight games that stick around for its sheer novelty.
The survival element is another string to its bow; it stands tall among survival games, yet never compromises on its core ethos and charm. Dinosaurs Merge Master requires strategic thinking, quick reactions and an understanding of battlefield dynamics worthy of any top-notch 'merge gameplay' centered simulator games.
In conclusion, Dinosaurs Merge Master is a colossus in a league of its own. It masterfully merges dinosaurs with knights and archers, creating an engaging gameplay experience brimming with exhilarating battles, survival elements, strategy-laden decisions and exciting dinosaur fusions. Immerse yourself in this ingenious universe where survival meets strategy and combat gets supercharged.
If you have an appetite for truly innovative combat games with a unique twist – look no further!
What are the best online games?