Dinosaur Fusion Simulator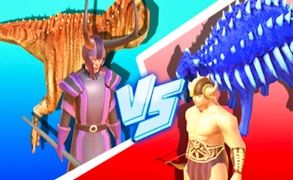 Dinosaur Fusion Simulator
Step into an enchanting world of prehistoric creatures with Dinosaur Fusion Simulator, the ultimate blend of dinosaur games and battle games. Picture yourself on a thrilling journey to a time when these majestic beings ruled the earth, but with the exhilarating twist of modern warfare technology in your hands.
This game ingeniously marries elements of knight games and simulator games, placing you in charge of both an army of knights and spectacular dinosaurs. It is not just about survival, it's about commanding your troops with astuteness, merging your arsenal to breed powerhouses that vanquish foes relentlessly. You are not just playing a game; you are strategizing, you're evolving - this is why Dinosaur Fusion Simulator stands tall amongst other survival games.
The gameplay is engaging, drawing you into a saga of guts and glory as you strive to expand your team. Each victory reverberates with rewarding excitement as you receive in-game rewards to enhance your forces. Merge new shooters, tame more ferocious dinosaurs - keep pressing forward to dominate the battlefield.
In conclusion, Dinosaur Fusion Simulator offers more than just gaming; it bestows upon you an experience of being part of a world where knights meet Jurassic beasts! If you're a fan of dinosaur games with a side dish of battle fields and strategic survival challenges one cannot simply overlook this gem among knight games and simulator games. Are you ready for this fusion? Then it's time to start your battle now!
What are the best online games?