Dino Squad Adventure 2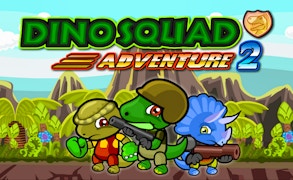 Dino Squad Adventure 2
Prepare to embark on an extinct yet extraordinary journey in the world of Dino Squad Adventure 2, one of the most thrilling dinosaur games that is sure to capture the imagination of young minds and hearts! Let your kids discover a prehistoric world filled with dinosaur favorites and realistic habitats. This game is full of fascinating facts about dinosaurs, making it an ideal choice amongst parents looking for educational yet fun games for kids.
Dino Squad Adventure 2, a sequel that genuinely outdoes its predecessor, introduces a fresh face to the Dino Squad - a new character that breathes life into the game with its unique skills. Kids can easily switch to this new dinosaur, ensuring they stay hooked to their screens in their animal games expedition, exploring scenic landscapes, overcoming obstacles, and complete levels.
What sets this game apart from other 2 player games is the exciting opportunity it gives both players to join forces as part of a dynamic dinosaur ensemble battling against 'bad' dinosaurs and traps. The additional feature of collecting gold throughout the game levels adds an addictive element of surprise and engagement. The golden rule here? The more gold you gather, the quicker you level up.
If you're on the hunt for dinosaur games that perfectly mix adventure and education or animal games that offer engaging 2 player experiences, Dino Squad Adventure 2 stands tall above the different species in its genre. It's an enthralling ride back in time guaranteed to spark interest among youngsters while providing them with a wholesome gaming experience.
This tasteful blend of adventure and learning makes Dino Squad Adventure 2 a game worth investing your time in – because what could be more fun than leading a squad of dinosaurs on exciting missions? So get ready to roar into action with your little ones as they learn about balancing teamwork with individual skillsets as they navigate through treacherous terrains, stand-off against enemy dinosaurs and keep their eyes peeled for those valuable in-game golds!
What are the best online games?