Dino Jigsaw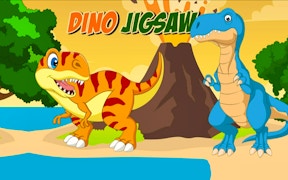 Dino Jigsaw
Welcome, to a land where the extinct come alive right before your eyes. Welcome to Dino Jigsaw, a masterpiece amongst dinosaur games tailored specifically for the imaginative minds of our younger generation. This game is not just one of the many games for kids that you'll come across in the digital playground, it's a brain teaser that combines fun with learning and creativity.
Dino Jigsaw is equipped with nine vivid dinosaur images that will transport your children to prehistoric times, fostering their curiosity about these magnificent creatures. The game provides four challenging modes with puzzles containing 16, 36, 64 and 100 pieces - each designed to cater to different levels of intellectual capabilities of our young gamers.
The beauty of this game lies in its simplicity combined with its appealing graphics and rewarding tasks. Selecting a favorite image and working on transforming a cluster of puzzle pieces into a full-fledged dinosaur image can be exhilarating. Completing each jigsaw puzzle instills a sense of accomplishment while racing against time adds an element of thrill and excitement.
Dino Jigsaw is not merely about fun; it's an educational tool cleverly concealed within an entertaining package. It enhances problem-solving skills, boosts spatial reasoning and promotes hand-eye coordination amongst kids. Combining learning with leisure is what truly sets this game apart from other typical dinosaur games or jigsaw puzzles.
In an age where screen time is inevitable, why not make it worthwhile? Engage your children in Dino Jigsaw while they indulge their dino curiosities and sharpen their cognitive skills simultaneously! This renowned game has already proven itself as one of the most beloved games for kids, combining the thrill of dinosaurs with the challenge of jigsaw puzzles – making every moment spent gaming both educational and amusing.
What are the best online games?