Dino Fossil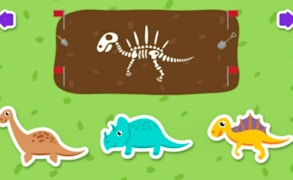 Dino Fossil
Take a step back in time and channel your inner archaeologist with the electrifying Dino Fossil game, a mesmerizing foray into the thrilling realm of dinosaur games. This stimulating educational game, ingeniously developed by Nau.kids, stands out as an outstanding choice among games for kids.
The captivating Dino Fossil takes young minds on an unforgettable journey back to the prehistoric era, igniting their curiosity while satisfying their thirst for knowledge. This interactive game prompts players to unearth fascinating truths about various dinosaurs by exploring the subtle differences in their fossils.
Educational games have long been applauded for their ability to package learning into a fun and engaging format, and Dino Fossil is no exception. As gamers delve into the intricate details of dinosaur fossils, they unknowingly embark on a comprehensive learning journey where entertainment meets education. This seamless blend makes Dino Fossil one of the most sought-after dinosaur games.
The game's interface is kid-friendly, offering an intuitive navigation experience that ensures players don't get lost in the depths of our planet's rich past. The visuals are vibrant yet soothing to one's eyes, making it an enjoyable gaming session each time.
In conclusion, if you're on the hunt for entertaining and enriching games for kids, then Dino Fossil by Nau.kids is your ultimate destination. Who knew that uncovering the mysteries of ancient creatures could be so much fun! Warning: Continuous exposure to this game might result in a newfound fascination with paleontology among kids!
Dino Fossil
, where fun meets learning in the world of dinosaurs. Don't just play - discover, learn, and grow with every fossil you uncover.
What are the best online games?