Dino Car Race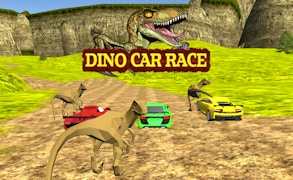 Dino Car Race
Step on the gas and prepare to get your adrenaline pumping, as we delve into a review of the latest sensation sweeping the racing game genre - Dino Car Race. This is not your everyday car game, it's a fusion of thrills and chills that only dinosaur games can offer.
As soon as you rev up your engine in this novel driving game, you immediately know you've embarked on an extraordinary journey. Dino Car Race tests your steering prowess in ways no ordinary car games do. The excitement of scorching the tarmac is amplified by an unexpected twist - the presence of dinosaurs! Yes, you heard it right, dinosaurs. It's an innovative mix that merges the intense fun from dinosaur games and high-speed excitement from driving games into one jaw-dropping package.
The impressive graphics and snappy controls ensure that every drift, turn, and sprint is executed with flawless precision. But don't let those sharp turns distract you; on this unpredictable road, a dinosaur might just be lurking around the bend.
The challenge escalates as you endeavor to steer clear of these lurking prehistoric predators while also trying to outpace your racing rivals. One false move and not only will you lose precious seconds but risk being a dinosaur's lunch! This perfect blend of danger and speed makes Dino Car Race stand out amongst other car games.
Your reflexes are pushed to their limit in this fast-paced drifting game where managing speed and control becomes paramount. You become not just a racer but a survivor in this exhilarating showdown between man, machine, and beast.
So buckle up gamers! It's time to grab the wheel in Dino Car Race - an unparalleled experience in the universe of dinosaur games, drifting games, and car games that tests both your driving skills and survival instincts.
What are the best online games?