Dig It Game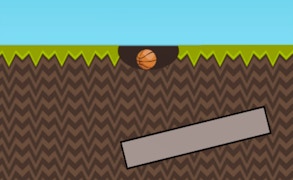 Dig It Game
Welcome, fellow arcade enthusiasts and gamers! Today we're delving into the charming, yet intense world of Dig It Game, a mesmerizing blend of skill games, ball games, and clicker games.
Dig It Game offers a fresh take on the classic genre of arcade, instantly hooking you with its engaging mechanics and colorful aesthetics. It's more than just your conventional ball game; it's a test of perception, timing, and precision.
The concept is simple but brilliant: guide a basketball into the target hole. Sounds easy enough, right? But like any great skill game, there's a twist. You need to maintain your focus or risk having your ball pierced by menacing spikes. The unpredictable nature of these spikes makes each level a thrilling ride.
The beauty of this game lies in its balance. It's both relaxing with its smooth animation and ambient sound effects yet challenging enough to keep you on the edge of your seat. Whether you're new to arcade games or an experienced gamer looking for something fresh among clicker games, Dig It Game fits the bill perfectly.
If you're in search of a game that tests your alertness, knack for strategy, and hand-eye coordination, then this captivating ball game is an excellent choice. The satisfaction that comes with guiding the basketball safely past those treacherous spikes is second to none!
In conclusion, Dig It Game isn't just another addition to the pile of online games—it's an exhilarating experience that will test your skills to their limits! For those who crave challenge and fun in their arcade experiences, I can't recommend this intriguing hybrid of skill, ball, and clicker game enough.
To all the fellow gamers out there - it's time to set new high scores in Dig It Game! Start clicking and let's see if you've got what it takes!
What are the best online games?