Dicez!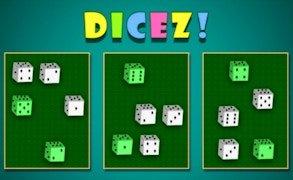 Dicez!
Step into the exhilarating world of Dicez!, a cool and captivating arcade game which splendidly combines the thrill of board games, bingo games, and casino games. This unique blend creates an immersive gaming experience that caters to all kinds of players.
Dicez! is not just your typical arcade game. It invites you to pit your wits against a challenging AI opponent. Brace yourself for exciting moments as you roll the dice and strategically choose positions. Your mission? To collect game points and secure victory over your opponent. The thrill of the chase, the strategy involved, and the satisfaction of a win make Dicez! a haven for board game enthusiasts.
In this game, not all dice are created equal. The power is in your hands to choose dice with a higher number and re-roll those that might not be in your favor. This feature adds an extra layer of strategy and unpredictability to the game, making every round of Dicez! unique.
Dicez! is more than just a game; it's a delightful escape from reality. With its captivating gameplay and relaxing atmosphere, it's the perfect stress-reliever after a long day. So, take a chance, roll the dice, and allow Dicez! to whisk you away into a world filled with strategic battles, unexpected turns, and countless hours of fun.
Experience the magic of board games, put your number skills to the test in our bingo rounds, or indulge in some casino-style action with Dicez!. Get ready for an unmatched gaming experience that keeps you coming back for more.
What are the best online games?