Devast.io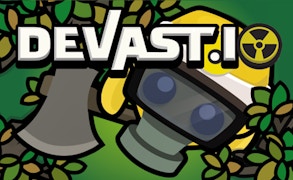 Devast.io
Dive into the frantic world of Devast.io, an adrenaline-pumping game which stands tall in the genre of .io games. This chaotic concoction of building games and survival games will keep you gripped with its survival-centric gameplay and intriguing setting.
Enter a post-apocalyptic landscape where anarchy reigns supreme. Nature has reclaimed cities and buildings in an unforgiving manner, breeding a world alive with mutants and relentless players. Devast.io will test your survival instincts to their limit with its menacing night-day cycles. As the sun drops behind the horizons, discover the unexplored complexity of gathering food and water- your lifelines to survive through the ruthless nights.
The game doesn't stop at just survival. Awe-inspiring 2D graphics bring life to this arcade-style game, making every mutant encounter or weapon discovery feel incredibly crisp. With breath-taking visuals, even surviving becomes an aesthetic experience!
The game also gives you a platform to interact with other gamers worldwide. Join any server, christen yourself with a distinctive nickname, and join the battle for survival. But beware! The radiation waves roving around can obliterate you in no time.
Intriguingly complex yet satisfyingly simple to play, Devast.io is a stellar example of 'easy-to-play but hard-to-master' format. Its fusion of building elements within a survival scenario makes it stand out among the maze of .io games. So gear up, for only your wits can ensure your survival in Devast.io.
What are the best online games?