Desert Racing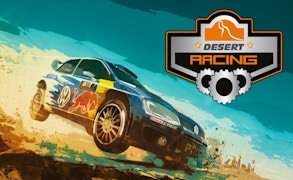 Desert Racing
Description
Get immersed in the thrilling world of Desert Racing. Step into the shoes of a daring car racer and feel the adrenaline rush as you speed through the sun-scorched desert landscapes. This game offers a captivating experience across 15 levels, keeping you at the edge of your seat as you gather stars and upgrade to high-performance cars.
How to play
Use your keyboard arrows to steer your vehicle across challenging terrains, collecting stars along the way. As you advance through levels, gather as many stars as possible to purchase powerful cars that will help you conquer forthcoming difficult stages. Keep pushing your limits and aim for the finish line!
Tips and Tricks
Pick up every star that crosses your path - they're not just points, but currency for upgrading your cars. Mastering control over your vehicle's speed and trajectory is key to avoiding obstacles. Take advantage of straight paths to build up speed, but be ready to slow down during tricky turns.
Features
Vibrant Graphics: The game boasts visually pleasing desert landscapes.
Purchasable Upgrades: Collect stars for purchasing exciting car upgrades.
Engaging Levels: With 15 exciting levels, the game promises non-stop fun.
Addictive Gameplay: Easy controls coupled with challenging obstacles ensures hours of addictive playtime.
What are the best online games?