Demolition Monster Truck Army 2020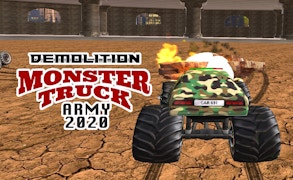 Demolition Monster Truck Army 2020
If you have a thirst for car games, a hunger for adrenaline-pumping driving games, and an insatiable appetite for total destruction, Demolition Monster Truck Army 2020 might just be the game you've been relentlessly searching for.
Demolition Monster Truck Army 2020 unites the seemingly disparate worlds of truck games, war games, and drifting games, crafting a unique gaming experience that feels as invigorating as it does destructive. This isn't just another run-of-the-mill monster truck game. It's a chaotic extravaganza of horsepower, firepower, and twisted metal.
The heart-thumping thrill starts the moment you lay your eyes on the brand new model of car, complete with monstrous wheels that look ready to roll over anything that dares to stand in their path. But this game doesn't simply hand you the keys to a beast of a truck and point you towards carnage. No, it invites you into an arena where every turn can lead to an impressive stunt or a fiery explosion.
Your mission? To enjoy every exhilarating second of this monster truck car crash derby. As your destruction meter rises, so too does your ability to upgrade your vehicle. More powerful engine options, stunning wheel designs, enhanced Nitro boosts – they're all waiting for you in this explosive monster truck game.
If the thought of tearing around an awesome environment filled with jumps, obstacles and other erratically driven vehicles excites you, then rev up your engines and prepare yourself for Demolition Monster Truck Army 2020. This is what happens when car games collide with war games – not just epic battles but epic battles fought with high-octane monster trucks. Strap in gamers; it's going to be one heck of a ride!
What are the best online games?