Demolition Derby Challenger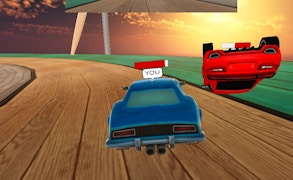 Demolition Derby Challenger
Are you a speed freak with an insatiable hunger for destruction and chaos? If destruction games are your poison, then you're going to love Demolition Derby Challenger, a racing game unlike any other. It's not just about being first past the finish line; it's about surviving the chaos and delivering carnage to your competitors.
This adrenaline-infused blend of car games, driving games, and battle games leaves the usual track racing in its dust. Your task isn't just to race, it's to outsmart, outmaneuver, and outlive your opponents. A true embodiment of survival games, where only the strong survive.
The car is your weapon in this high-octane drifting game. You have hit others hard enough to force them to tumble off-track or into a deadly whirlpool. But remember – they can do the same to you. Show them that you're more than a fast car; you're a daredevil on wheels.
'Survive', 'dominate', and 'destroy' are the keywords in this chaotic battlefield filled with revving engines and screeching tires. The raw sound design brings every collision and drift to life, immersing players fully into this extreme demolition challenge.
Demolition Derby Challenger succeeds in bringing an exciting new dimension to the genre of car games by combining racing with elements of battle royale. With its intricate driving mechanics, tight controls, and destructive gameplay, it offers hours of non-stop action for those who have a need for more than just speed.
This addictive destruction derby game is surely going to hit the sweet spot for drifting enthusiasts and fans of survival games alike. So buckle up! Ramp up your engine's roar! And prepare yourself for an audacious ride that will keep your heart pounding from start to finish!
What are the best online games?