Demolition Cartoon Car Crash Derby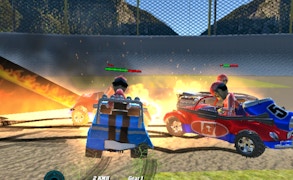 Demolition Cartoon Car Crash Derby
Get ready to strap in for an adrenaline-pumping ride with the thrilling Demolition Cartoon Car Crash Derby, a must-try for all fans of car games, drifting games, driving games, and battle games. This isn't your typical car simulator, it's a high-octane, tire-burning mayhem-filled extravaganza that is guaranteed to get your heart racing and your thumbs twitching.
Demonstrating a stunning blend of speed, strategy, and skill, Demolition Cartoon Car Crash Derby pushes the boundaries of what you can expect from free-wheeling online multiplayer gaming. With its enhanced menu options and improved gameplay stability, you're sure to experience non-stop action like never before.
The real core of this game is its endless variety of cars - quirky yet rugged cartoon vehicles designed to withstand the most intense crashes. The addition of nitro boosts not only increases the game's speed but adds an exciting layer of strategy as you decide whether to use the boost for an epic drift or a devastating crash.
This game stands tall among other car games. But where it truly shines is in its rich multiplayer mode where battles aren't just about speed but about outsmarting your opponents using drifts and dodges. The thrill of the chase coupled with the sheer joy of sending your opponents careening off into a spectacular crash is simply unmatched.
If you're in search of a game that combines fast-paced racing action and strategic vehicular combat, look no further than Demolition Cartoon Car Crash Derby. So rev up those engines, slam down that accelerator and buckle up because this explosive demolition derby is going to be one wild ride!
What are the best online games?