Daily Solitaire Blue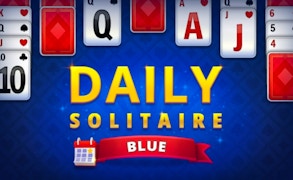 Daily Solitaire Blue
Dive head-first into the spectacular world of Daily Solitaire Blue, a new-age twist on the classic Klondike Solitaire games. This shimmering diamond of Solitaire Games has been finely cut and polished by Softgames, the masters of card game design, and it brings a unique game to your fingertips every day!
The excitement doesn't stop there. With Daily Solitaire Blue, no two days are the same. The game serves up different challenges and difficulty levels based on what day of the week it is. Imagine a solitaire journey where Mondays aren't so blue, and Fridays are even more exciting, it adds an unexpected rhythm to your playing pattern.
Like any true solitaire aficionado knows, practice makes perfect - and this adage truly echoes within Daily Solitaire Blue's dynamic game environment. The more you play, the better you get! Plus, your daily gaming diligence is rewarded with monthly rewards that just keep on coming.
On top of all this strategic goodness sits an aesthetic crown that's hard to match. Renowned for their high-quality graphics, Softgames have outdone themselves with Daily Solitaire Blue. Every card flip and hand rearrangement is rendered with such intricate detail that it's hard not to be mesmerized.
A fascinating fusion of traditional solitaire mechanics combined with innovative daily challenges and visually stunning graphics makes Daily Solitaire Blue stand head and shoulders above other Solitaire Games. It's not just a card game; it's an exhilarating brain teaser that promises hours of entertainment for both casual players and diehard solitaire enthusiasts.
Without a doubt, Daily Solitaire Blue is a masterpiece in the card-game realm everyone should experience. So why wait? Jump in and start dealing those cards! Let each day be an exciting new chapter in your journey through this innovative solitaire wonderland.
What are the best online games?
TAGS