Cyclomaniacs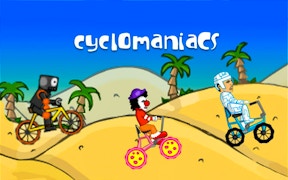 Cyclomaniacs
For those with a love for the thrill of velocity blended with exciting gameplay, Cyclomaniacs emerges as an adrenaline-infused offering in the realm of both driving games and motorcycle games.
Taking the form of an outstanding vertical bike racing and stunt game, Cyclomaniacs pushes you to your limits, testing your skills across an array of diverse and challenging locations. You begin your journey into this high-stakes world as a skilled robot rider, facing off against stiff competition as you strive to unlock unique features and memorable characters.
The true beauty of Cyclomaniacs lies within its fluid integration of different game genres. On one hand, it touches the realm of dirt bike games, compelling players to maintain a delicate balance on their bicycle while executing thrilling air flips. On the other, it dips its toes into skill games, setting out achievements like finishing races within a strict 60-second timeframe or securing a proud top 5 position.
Daredevils will find pleasure in performing stunts that not only wow audiences but also incrementally increase your boost meter—an essential feature for zooming past opponents and bagging that top spot. But remember—avoid falling down at all costs!
Cyclomaniacs' captivating narrative, stunning graphics, and heart-racing gameplay ensures it ranks highly in the pantheon of free online games available on Silvergames.com. So saddle up, tap into that inner daredevil, and set off on an exhilarating ride through the unforgettable world of Cyclomaniacs.
What are the best online games?