Cyber Racer Battles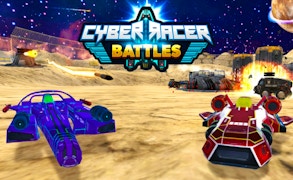 Cyber Racer Battles
Get ready to thrust your gaming experience to the stratosphere with the fast-paced thrill that Cyber Racer Battles has to offer. Buckle up gamers, as this fusion of driving games and flying games will fling you into space, presenting a new frontier for all the adrenaline junkies out there.
This game doesn't stop at high-speed racing but also intertwines elements of battle games and war games. Thus offering spellbinding moments of strategic combats that unfold within its captivating career mode missions. The fact that it's among the few 2 player games out there, elevates Cyber Racer Battles even higher in its uniqueness.
The three gaming modes give you the freedom to choose your destiny. In Race and Free Roam modes, either go solo or team up in a two-player setting. Winning races earns you highly-valued coins, which can then be invested into buying new hovers, hence propelling you further into the action.
In Mission mode, prepare yourself for a challenge on twelve diverse battle maps. Each map is more demanding than the last, testing your skills to their limits. The game also boasts an arsenal of lethal weapons available for purchase like machine guns or homing missile - bring hell upon your enemies in hover battles or meteor missions.
In addition, each hover possesses its unique attributes – speed, acceleration, handling and shield feature – making them crucial for progression in both mission and race modes. Always remember to check out what's new at the garage!
Cyber Racer Battles: Experience relentless thrill in space, where battles and races come alive!
What are the best online games?